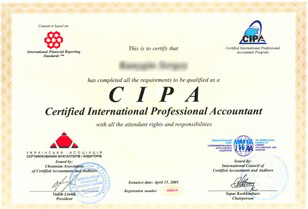 WHAT IS CIPA?
The Certified International Professional Accountant (CIPA) is a world-class, IFAC compliant, Russian language professional accountancy certification. The objective of the CIPA program is to substantially raise the quality of the accounting profession in several countries of the former Soviet Union (FSU) through promoting IFRS and ISA, and professional ethics.
WHY IS THE PROGRAM BASED ON IFRS?
IFRS is used because it has become the mandatory European accounting standard. In May 2002, European Parliament voted for the resolution which obliges all listing companies of Europe to generate consolidated financial statements in accordance with IFRS starting from January 2005. As IFRS requires comparative reporting (i.e., requires data from the previous year), most companies needed to use IFRS starting 2004.

Many companies transferred to IFRS even earlier because of the market's pressure (investors and lenders and sometimes foreign suppliers and consumers insist on IFRS-based reporting). Conversion to IFRS is a complicated process including several stages (such as complete change of the accounting policies of the company, analysis of all business transactions, extensive use of professional judgment in accounting, process of conversion, etc.). But the first stage is to train and certify the specialists: financial directors, accountants and auditors
WHO ESTABLISHED THE CIPA PROGRAM?
The CIPA certification was established in 2001 with the formation of the International Council of Certified Accountants and Auditors (ICCAA) - a federation of regional professional accountancy associations whose working language is Russian and whose goal is to attain the highest possible level of professionalism in its membership. The 13 founding associations from Russia, Central Asia and Ukraine agreed to adopt and mutually recognize the CIPA education qualification requirements, the exams, and the certification. In the nearest future ICCAA's goal is to become an official regional grouping of IFAC, and be mentored by IFAC. Currently, ICCAA unites 23 professional associations.

The goals of ICCAA are:
tо increase the status of the accounting and auditing profession
to promote international standards and professional ethics developed by International Accounting Standards Committee Foundation and IFAC
to develop unified qualification requirements to the accountant profession.
to have unified system of testing and certification of accountants and auditors.
In early 2005 an article in AGA1 TOPICS Newsletter "Develop Professional Associations Through Better Use of Examination-Based Qualifications" by Anthony F. Gioffre, JD, CGFM, CPA, a member of AGA's International Development Committee was published on the AGA web-site. Anthony F. Gioffre is one of the original designers of the CIPA program. His article addresses a lot of the relevant issues that face the accounting profession today and the technical assistance that the CIPA-Ukraine Project seeks to provide. The article also refers to the role of accounting associations in supporting economic development and reform, importance of examination-based assessment of competencies, and offers a model for accounting associations to consider - International standards for an international-minded market.

' For qualification bodies to serve their public purposes effectively, it helps to have standards that are, well, standardized. Moreover, the immediate users of qualification programs - such as employers of qualified professional accountants - should have a reasonable understanding of what body of knowledge is covered by the examination on which the qualification is based...

The standards covered by qualification examinations, should be internationally recognized. In most countries, that means the accounting standards should be International Accounting Standards (IAS; now referred to as International Financial Reporting standards, or IFRS); and the auditing standards should be International Standards on Auditing (ISA).' See the full article at www.agacgfm.org/publications/topics/13105/idc.aspx
WHO NEEDS CIPA?
FSU economies - to accelerate the accounting profession development and assure transparent, profitable enterprises, as well as FSU's overall economic growth and stability.

Local professionals - to obtain the opportunity for a high quality, internationally recognized Russian language certification at an affordable price.

International community - to assure full accounting harmonization with Eurasian economies as an enhancement to international trade and exchange.
SOURCES OF FUNDING
The major international supporter of the CIPA program has been the United Sates Agency for International Development (USAID). USAID views a reformed accounting profession as a prerequisite for economic growth through attracting domestic and foreign investors to the FSU.

The certificates given to successful participants bear the logo of IFRS, ICCAA, and a host country member association.
INDIVIDUAL COUNTRY RECOGNITION
There is an ongoing discussion within the FSU countries regarding the need for professional certification of accountants - these countries have nationally-prescribed certification of statutory auditors. Historically, there is a greater separation between accountants and auditors in the FSU than in the Western countries; and in many countries they are treated as separate professions.

The CIPA program's intent and structure was to create an independent, professional and market (as opposed to a government) recognized accounting certification. Even though all ICCAA members continue to work with their respective governments to obtain the country recognition and support for this IFAC-compliant certification program, they believe it is much more important to gain a true market and profession recognition.

CIPA provides invaluable service to every participating country by protecting the interests of the public and investors by raising the quality of financial reports and certifying the competence of those who prepare them.

CIPA training centers translate international textbooks and materials and develop supplemental material with input from local professionals and trainers. The examination process is best characterized as independent, comprehensive, uniform throughout the FSU, and is professionally monitored and secure. CIPA requirements include Continuing Professional Education (CPE) as a necessary part of the accounting profession.

CIPA founders believe that society's perception of accountants as skilled and trusted professionals in the FSU should be developed and maintained by the profession.

The CIPA program provides the methodology for measurement of an accountant's competency.
HOW DOES IT WORK?
STRUCTURE

The program consists of three parts:

TRAINING

Different people and legal entities can take part in training. Training can be provided by institutes and universities, training centers, professional associations and private teachers. There is training in groups, remote training, and self-preparation. All training centers teaching CAP/CIPA have access to training programs prepared by various USAID projects based on ICCAA qualification requirements. (See Training materials at www.capcipa.biz/icaedu_eng.htm)

TESTING

Exams are held simultaneously in all countries represented at ICCAA.

See CIPA-EN website for the dates, times, and exam center locations for 2005 and 2006.

CERTIFICATION

The CIPA program has two levels of certification

CERTIFIED ACCOUNTING PRACTITIONER (CAP)

CAP qualification confirms basic knowledge of the candidate in fundamental principles and practices of accounting. The candidate should pass the following examinations with a score of 75 or greater:
Financial Accounting 1
Managerial Accounting 1
Tax and Law (based on national standards)
The candidate also should be computer literate, have at least one year of work experience and a good reputation as a member of a professional association.

The CAP specialist should be able to create the standard financial reports for the organization using IFRS. A CAP can also manage the internal accounting system and analyze the financial reports and present information about profit and loss of the company. Moreover, a CAP can work with internal budgets and prepare tax declaration for the company.

CERTIFIED INTERNATIONAL PROFESSIONAL ACCOUNTANT (CIPA)

For CIPA certificate а candidate should pass the following examinations with a score of 75 or greater:
Financial Accounting 1
Managerial Accounting 1
Tax and Law (based on national standards)
Financial Accounting 2
Managerial Accounting 2
Finance
Audit
The candidate should have higher education, at least three years of work experience and a good reputation as a member of an ICCAA member-body. They also should have a working knowledge of management information systems.

A CIPA qualified professional has proficient knowledge and analytical skills in financial and managerial accounting as well as in finance and audit.
Growth of CIPA Program in Ukraine
The last summer session added as many as 215 new CAP-qualified individuals in Ukraine, bringing their total to 2,078, and 12 new CIPAs for a total of 50 individuals.


Dynamic of growth of CIPA-qualified individuals in Ukraine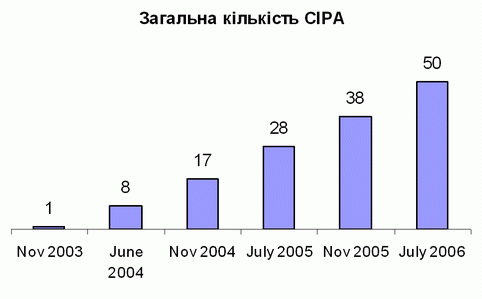 Dynamic of growth of CAP-qualified individuals in Ukraine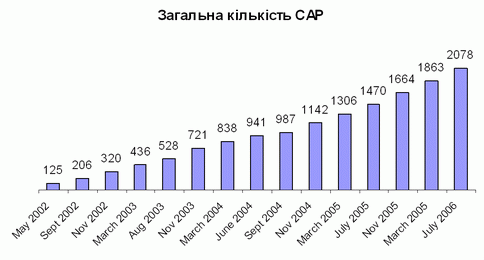 See Examination schedule for 2007 at http://www.cipa.org.ua/eng/exams/.


---

1 - Since 1950, the Association of Government Accountants (AGA) has been--and remains today--the educational organization dedicated to the enhancement of public financial management. AGA serves the professional interests of financial managers, from local, state and federal governments, as well as public accounting firms, responsible for effectively using billions of dollars and other monetary resources every day. Anthony Gioffre has given his permission to paraphrase from his article for the purpose of this web-site and if the user wishes to read the complete article at www.agacgfm.org.